Inviting all startups, small businesses, entrepreneurs, founders, developers, innovators, designers, students, mentors, investors, speakers, instructors, community leaders to join us for Global Entrepreneurship Week South Florida presented by Office Depot.
Global Entrepreneurship Week South Florida celebrates entrepreneurship throughout South Florida this November 18th to 23rd and features entrepreneurial talent, innovation, expertise while building and strengthening local connections.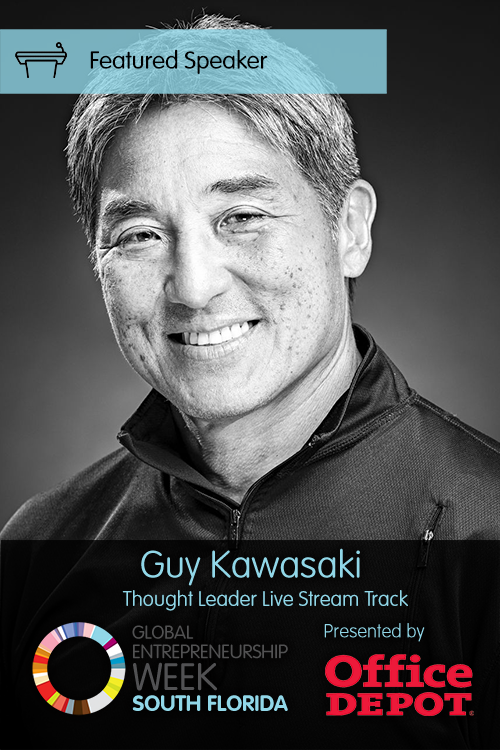 Reasons to attend:
Learn from experienced mentors, qualified professionals, and successful peers.
Meet fellow entrepreneurs, developers, designers, investors etc. to celebrate entrepreneurship.
Discover and support the amazing array of local venues, spaces and resources provided throughout the community.
Be counted as an active member of the growing South Florida entrepreneurial ecosystem by sharing and learning from one another.
Featuring:
40+ events including educational tracks, programs, networking sessions, opening and closing ceremonies.
Events held in a city near you.

About Global Entrepreneurship Week South Florida.
Global Entrepreneurship Week South Florida endeavors to educate aspiring and established entrepreneurs on best practices, to provide a platform for entrepreneurs to share successes and hurdles and to facilitate access to the dynamic network of resources within the South Florida entrepreneurial ecosystem. Global Entrepreneurship Week South Florida provides access to professional resources, mentorship and specialized live events in order to spur small business growth and accelerate business success.
Global Entrepreneurship Week is a celebration of innovators who dream big.
Each November, GEW reaches millions of people of all ages and backgrounds through local, national and global events and activities. From large-scale startup competitions and workshops to small, community discussions – GEW reaches new audiences and connects participants to a network that can help them take the next step, no matter where they are on their entrepreneurial journey.
During the week of November 18th to the 24th, thousands of events and competitions in 170 countries will inspire millions to engage in entrepreneurial activity while connecting them to potential collaborators, mentors and even investors. Powered by the Kauffman Foundation, the initiative is supported by dozens of world leaders and a network of more than 15,000 partner organizations.